Hickies' Repairs
Instrument maintenance has always been an integral part of Hickies, since we opened our doors in 1864 we have been repairing and tuning instruments of all kinds. Accidentally breaking or damaging your instrument can be absolutely heartbreaking, but our passionate team of experienced and professional luthiers can often work wonders. At Hickies not only do we repair damaged instruments, we can also perform full servicing and modification. So if you need to repair a faulty machine head, service a flute with leaking valves or fit that new bridge pickup, Hickies surely can help.
Where To Start
Simply come into one of our stores with your instrument. All repairs start with a free consultation to establish a time frame and approximate quote for your repair. Simple repairs may take only a matter of hours on site, more complicated procedures can take up to three weeks to complete. Before any work starts you can specify exactly how much you're willing to spend on your repair to avoid an unwanted fee, we'll also contact you during the repair process to finalise the work that will be done and give an exact price for completion.
What instruments do we repair?
| | |
| --- | --- |
| Guitars, Ukuleles & Basses | Here at Hickies we are proud to offer a wide range of electric, acoustic, classical, bass and ukulele repair services. Commonly requested repairs/modifications include: repairing a broken headstock or neck, re-stringing, fret dressing and replacement, general restoration, re-spraying, set ups, pickup or electronic replacement, onboard effect installation and many other requests, if you have a specific requirement please let us know and we will try to help however we can. |
| Saxophones | We repair and check over all types of Saxophone including the soprano, alto, tenor and baritone families of sax. One of the most common problems that clients have with their saxophones is commonly to do with minor leaks, which are unfortunately undetectable to the naked eye, but not to our experienced repair team. We also offer re-padding, dent removal, soldering and brazing (when needed) and general check over services. For further information on getting your Saxophone repaired or serviced bring your instrument in store today for a free consultation. |
| Brass Instruments | Brass instruments quite often need their valves, waterkeys and slides checked and serviced, and sometimes in extreme cases replaced, these are all repair services that we can provide here at Hickies. We also offer bodywork repairs, a leak check, joint re-soldering and tube repairs or rejoining. In addition to this we check for general constrictions in the tubing, as sometimes this can be to blame for debilitating projection and tone issues. For a quote and more information bring your brass instrument in store today for a free consultation. |
| Stringed Instruments | At Hickies we repair some of the most popular stringed instruments available, including the violin, viola, cello, double bass and all the bows needed to play these instruments. We strive for ultimate customer satisfaction here at Hickies, and will endeavour to repair your instrument using only the finest materials and components available and with professional, experienced workmanship. Giving an estimate for repair can vary from case to case due to the unique nature of stringed instrument repair, for a rough quote bring your instrument to either our Reading or Tiverton store today for a free consultation. |
| Flutes | At Hickies we understand flute repair, and our dedicated and professional repair team can diagnose a problem with your flute and will have it playing with a new lease of life. Quite often all a flute needs is a service and re-pad but occasionally joint problems can occur in metal flutes, which is of course not an issue for our repair team. We strongly recommend that your Flute gets serviced or checked over at least once year, or more depending on how much you use your Flute. We also repair Piccolo's, and although in most cases simple adjustments and a general check over of the piccolo will only be needed, sometimes a specialist re-pad will be required. For more information and a quote estimate bring in your instrument today to either our Reading or Tiverton store for your free consultation. |
| Clarinets & Oboes | Clarinets and Oboes are a commonly repaired here at Hickies, as we can provide a wide range of repair services for your prized instrument. Most of the time all that your Clarinet or Oboe will need is a check over, service or overhaul but occasionally something more complex may be required such as repairing cracks in wooded clarinets, a re-pad or fixing broken tenon joints, all of which is an easy fix for our team of experts. In addition to Clarinets and Oboes we can also repair Bassoons. For more information and to get your instrument repaired with us today come into either our Reading or Tiverton stores with your instrument for a free consultation. |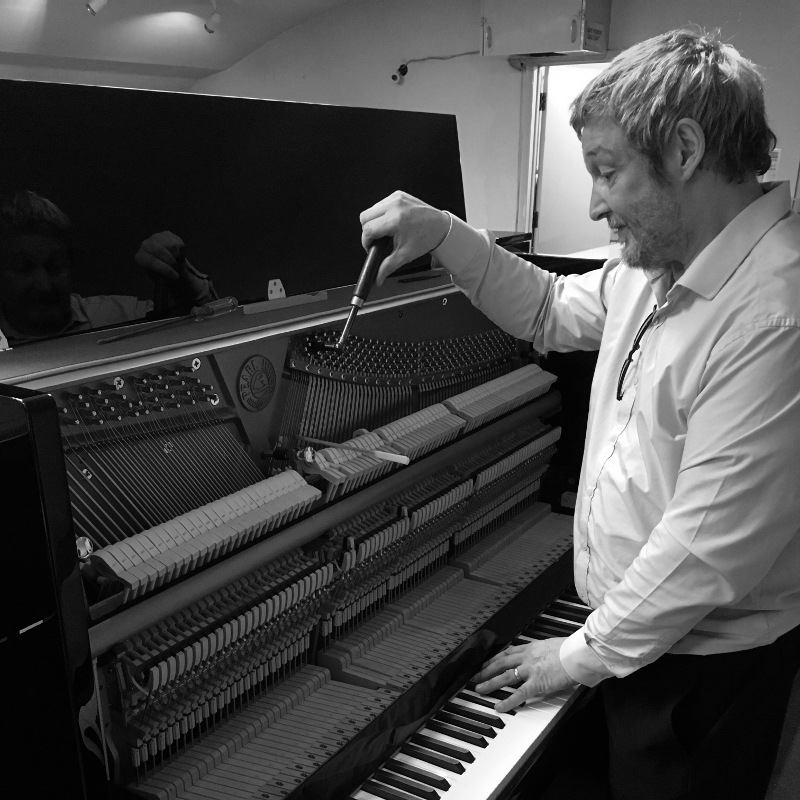 Mark Werner
Mark has been working with Pianos as a tuner, restorer and repairer since his apprenticeship at Beestons Pianos Tiverton in 1979. Mark joined the Hickies team in 1989 and swiftly became our most dedicated piano specialist, restoring and tuning everything from Steinways, Bechstien and Bosendofer Pianos in upright and grand styles. Mark's work is always reliable and efficient ensuring that every customer is satisfied and pleased with the results of his craftsmanship. In addition to Mark's bountiful experience he has been a member of the Musical Instrument Technology since 1988. So if your Piano needs an overhaul, a touch of TLC or just a routine tuning then Mark is the man for the Job.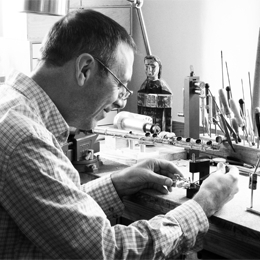 Paul Egan
Paul has over 20 years worth of instrument repair experience since opening his workshop in 1993 and has been repairing and servicing a host of woodwind and Brass instruments on behalf of Hickies for over 6 years. His work and craftsmanship has never failed to impress us over the years and he offers everything from general repairs and adjustments to full services and complete overhauls (prices variable and subject to a case by case basis). In addition to the positive appraisals of all of his satisfied customers Paul is also a member of the national association of musical instrument repairers.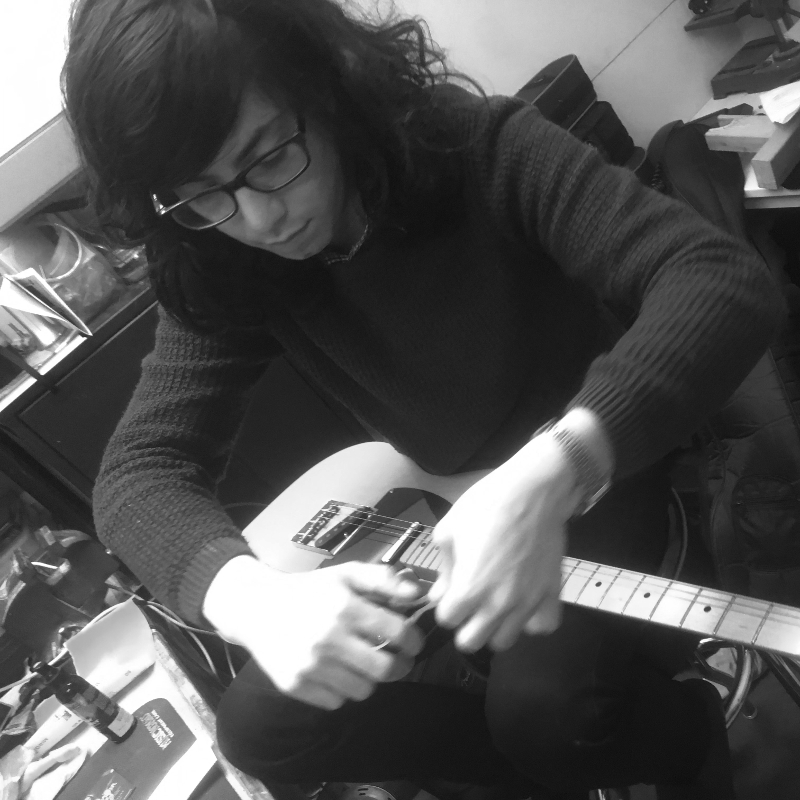 Ed Wells
Ed is our resident guitar, bass and ukulele specialist and can make on site repairs and modifications to fretted and stringed instruments at our Reading branch. Ed has years of experience repairing and setting up instruments and has worked under the wing a professional luthier since he started with us at Hickies. Confident, passionate and competent, Ed is an asset to our repair team, as he puts it: "I can restring anything"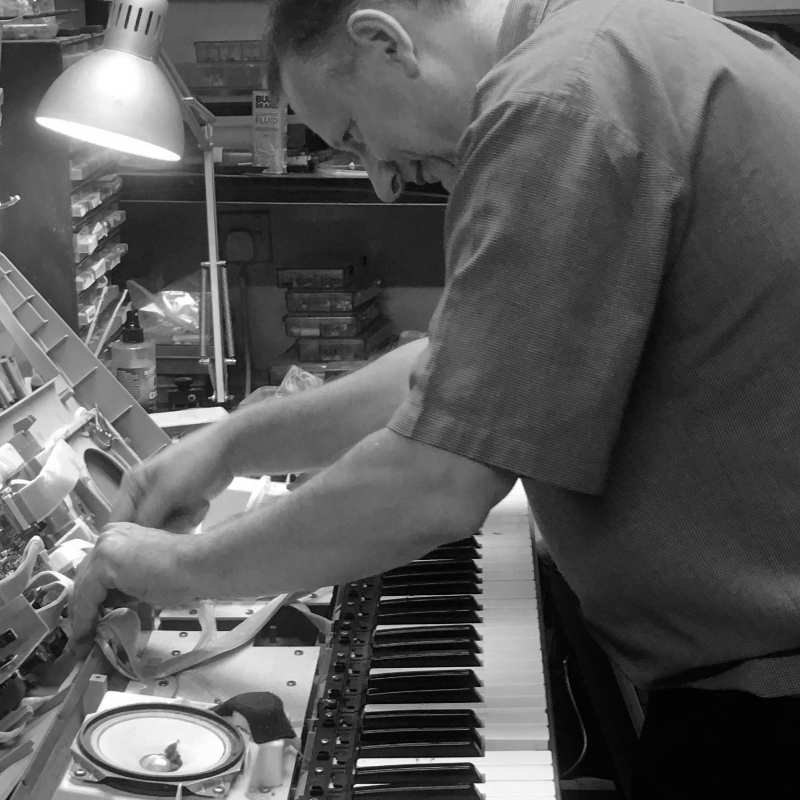 William Elphick
William has been repairing electronic goods and instruments since 1977 and has decade's worth of experience in the field. A graduate from Langley College and qualified via City and Guilds William has all the skills required to repair amps, keyboards, P.A systems and Digital Pianos and can repair goods on a detailed component scale (providing we have the parts). If you need to give your electronic instrument a bit of much needed TLC then William is the man for the job.
Frequently Asked Questions
| | |
| --- | --- |
| Q: How much are your repair services? | A: Repair prices can vary quite dramatically, it all depends on the difficulty and time associated with a repair. We can give a quote when we see your instrument in store, if a quote cannot be given you can specify a maximum price willing to be spent. |
| Q: How long will it take to repair my instrument? | A: Some repairs can take a matter of hours in store but more dramatic damage to an instrument such as break in a guitar neck can take up to 3 weeks to repair. |
| Q: I cannot bring my piano to you, how can I get it repaired? | A: For the tuning and repair of pianos we will send a specialist to you please contact pianos@hickies.co.uk or call 01884 257 211 to get started. |