Fender instruments have long held something of a mythological status in musical circles since their introduction into the market in the 50's and looking at them with modern eyes it's not hard to see why. Despite the fact that Fenders seem to radiate a "future of tomorrow, today!" sci-fi design they are utterly timeless, with curves exactly where they should be & with a play-ability that is still unmatched. Here is my run down of the most iconic Fender designs and how they stand up today to our modern, cynical tastes.
Telecaster: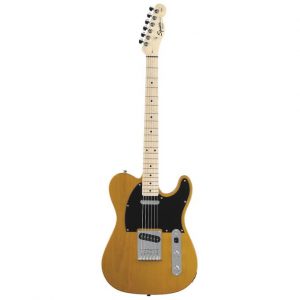 Upon first inspection the Telecaster looks almost gruff and simplistic in appearance, perhaps even a little to ordinary but it's only when you get up close to one that you realise how utterly charming the model is. Leo's first design was the Telecaster and you can tell that he created it from an engineer's perspective as its pure function over form, but that simplicity is the Teles most attractive feature. It's guaranteed that every guitarist will get the "Tele bug" at some point, lusting over one when no other design will do as holding one connects you to the very roots of electric guitar history itself. No matter what your style a solid Tele will always be relevant and are tough enough to survive virtually anything.
Stratocaster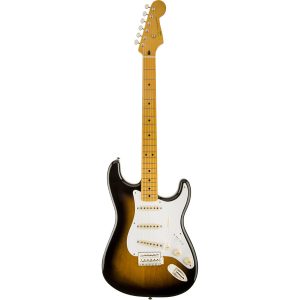 Quite possibly the most iconic electric guitar design, the Strat looks just as good today as when it was unleashed unto the world in 54' and continues to inspire a loyalty like no other guitar before or since (apart from perhaps its rival the Les Paul). The Strat looks like a product of its era, emulating a space age almost "Jetsons" like appearance that is pleasurable to both the eye and hands as its curves are strategically placed to give a perfect ergonomic experience. Throw in a unique pickup configuration and tone combined with its groundbreaking tremolo system and you have a staple instrument for the ages.
Duncan & Russ sharing their mutual love for the Strat design.
Jazzmaster: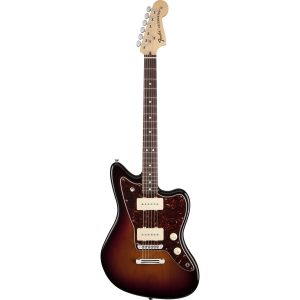 The favoured guitar of alternative rockers everywhere, the Jazzmaster has grown a cult-like fan base over the years due to its leftfield design and boom of popularity in the 90s. Played by alt-rock royalty this instrument continues to appeal to those that want a clear and well rounded tone that can dirty up to the extreme when needed. Bulkier than its Start and Tele siblings the Jazzmaster is certainly broader in size, reassuringly weighty even but for those that want something slimmer this may not be the guitar for you. Despite its size however it's incredibly easy to play and has unique tremolo systems that not only works effectively but holds its tune surprisingly well. This is the perfect axe if your attitude is as against the grain as the Jazzmaster is.
Precision & Jazz Bass's: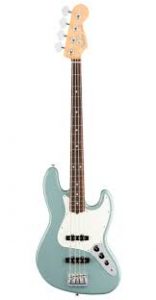 In addition to the big three of the guitar world Leo also gave two iconic bass designs, the Precision & the Jazz, based loosely design concept wise on the Tele and Strat respectively. The P Bass has a bulk and thickness that creates a booming tone used on countless classic recordings and the Jazz bass has a silkier neck and more detailed control system which results in refined and smoother tone. Both instruments are still incredibly popular today and inspire legions of fans the world over.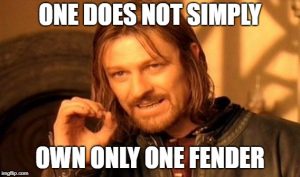 So which one is your favourite? Let me know in the comments below as this topic has divided opinion but one thing is certain, the legacy of Fender is certainly assured.