Being quite into the subject of guitar journalism and the music industry in general I couldn't help but notice the marketing campaign for Fenders new range of" Player Series" instruments, They managed to hit all of the social media platforms extremely hard with some rather trendy accompanying  videos of musicians and bands using the series for various performances and tours. But being a natural cynic I was finding it hard to see the wood-from-the-trees as to if the new range will stand up to my natural scrutiny in person. However I should have known that Fender would hit it out the park, out of all the models available I decided to give the ever iconic Strat a good going over.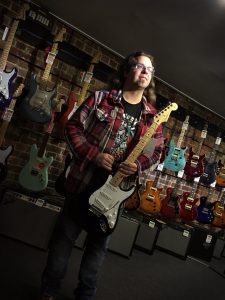 "Having a bit of a Slowhand moment.."
First Impressions:
The first impressions of the Player Series Stratocaster was good, the overall weight of the instrument was medium, certainly heavier than some Strats that I've held in the past but equally nowhere near as heavy as the  70's CBS era models, so a nice middle ground there. The finish quality was excellent with no impurities in the look of body and the neck was assembled and completed perfectly with a truly genius sanded satin back (more on that later). The finish colour I choose was Black (in a vain attempt to summon my inner Clapton to the surface) and it all certainly looked the part with a maple neck and white pickguard. So far, so good!
"Black is always the best colour"
Playability & Sound:
This is where things started to get really interesting as having played various other Mexican made Fenders in the past I always felt like these were categories that the brand fell down on, but not so much with this current incarnation. The introduction of the satin neck to the series was truly an inspired and wise decision as the series seems to be aimed at those that want performance over tradition and sanding down a gloss neck on the back to give an easier playing action is an extremely common post purchase modification so to have it as standard is rather awesome. As a result the neck is a dream to play and feels very modern due to its C profile radius, having an extra fret (22) is also a bit of a bonus too as its quite novel to fret so high up on such an vintage design.
The sounds available on the Strat model are incredibly varied and will suit a whole range of contexts, I always believe that a sign of solid set of pickups is to go through every configuration and combination to see how different all the voices are and the set installed In this series is certainly diverse in the best possible way. The neck pickup sounded full and solid whist still retaining its fundamental Strat'yness, the Middle position was typically "quacky" and the bridge was quite bright yet not unusable. What surprised me however was just how gain friendly the pickups were, able to tame variable amounts of gain easily whist again still sounding like a Strat in the process, whoever developed this pickup set really put a lot of thought into its creation, and made them usable for virtually every context. Overall the whole package sounded wonderful if not for a slight bit of hum when gain was applied to the single coil on the 1,3 and 5 setting (which is mostly to be expected)  a hum which vanishes on setting 2 and 4. Overall I'm very very impressed with the whole sound and feel of the range.
Value For Money?:
Absolutely! I genuinely believe that the value for money angle is the greatest selling point of the player series as they are on the lower end of the Mid-range price point. If I were to recommend a solid performing quality instrument then from this point onwards the Player series would be at the top on my list of recommendations, for new players and experienced ones alike. Being an absolute tone hound I would of course mess with a few things post purchase (I'm very heavy handed so I would need a thicker tremolo block) but being honest it would be hard to fit anything else into the price point of this instrument, it's a genuine marvel that it's so cost effective to begin with!
Final Thoughts:
Fender has obviously listening to their target demographic and have made modern and useful adjustments to their series that really go a long way in inspiring confidence in the Fender brand. It feels like Fender really hit the ground running with the Player Series, putting their finger on the pulse of the needs of the working musician at a price that is hugely appealing, and in the age £1000+ American made flagships the player series will make  presumed quality disparities between the two less and less obvious .Truth be told  I'm a little shocked that Fender managed to cram so many features and improvements into an instrument at that price and as a result puts to shame a certain rival company that Is currently in a terrible financial situation. It just goes to show that if you create an affordable yet quality instrument with an suitable marketing campaign you can put to rest any perceived  innate superiority of a country of manufacturing origin, as I've always shown a little resistance to Mexican made Fender models, that isn't the case anymore.
Overall I would give this Strat the following marks:
Price: (10/10)
Sound: (7/10)
Feel & Playability: (8/10)
Features & Extras: (7/10)
Overall: (8/10)
This Strat is perfect for anyone that wants a genuine Fender at a decent price, its features are well thought out and for a modern player in mind, true vintage purists may want to give this one a pass unless they want their perception of what makes a "great" guitar immediately challenged. Highly recommended.
TO CHECK OUT OUR RANGE OF FENDER PLAYER SERIES INSTRUMENTS CLICK HERE